Anna Parkman publishes new novel: Apocalyptin
December 31, 2022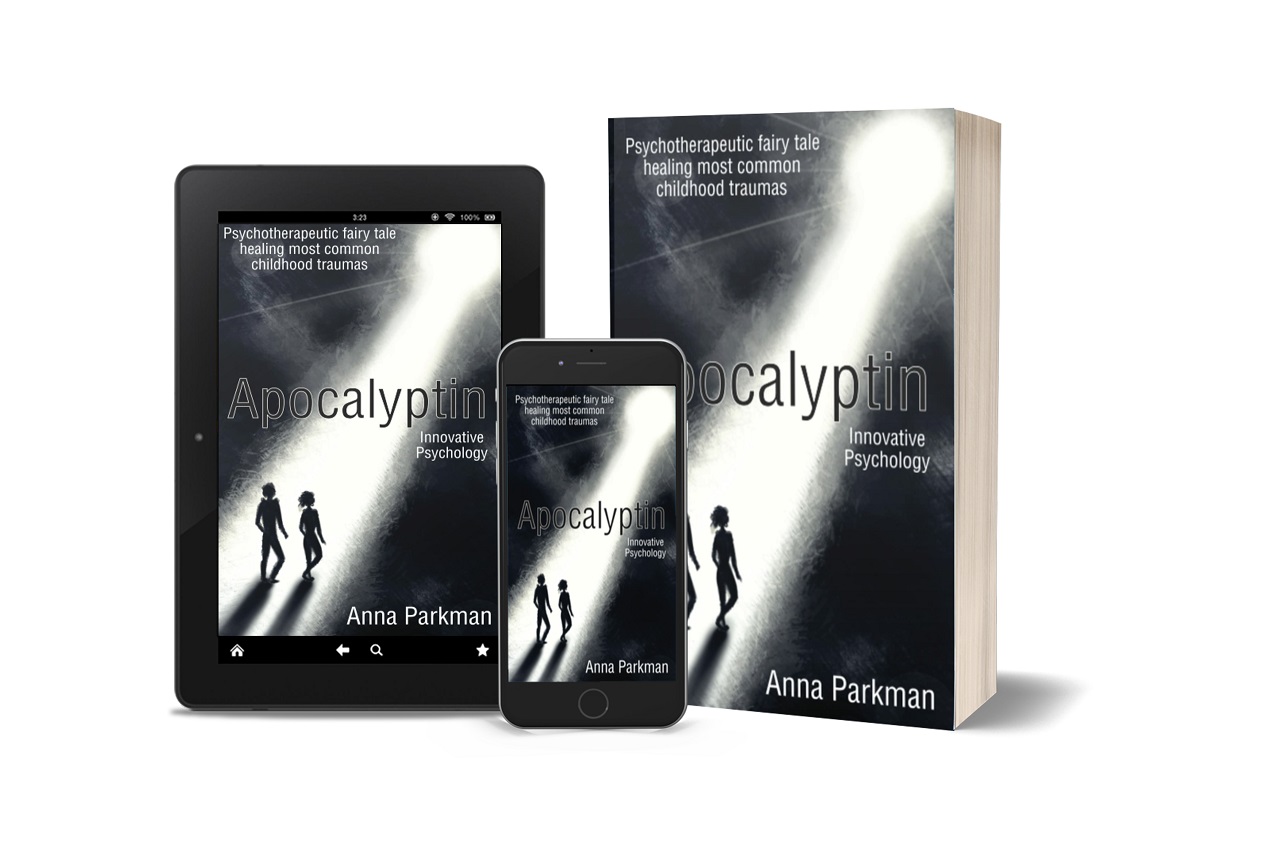 "Anna Parkman's Apocalyptin"
Anna Parkman is pleased to announce the release of her new novel, Apocalyptin: Psychotherapeutic Fairy Tale Healing Most Common Childhood Traumas.
World's first metaphorical psychotherapeutic fairy tale for adults that effectively works with the subconscious and heals childhood traumas.
Apocalyptin is a fascinating metaphorical fairy tale that contains powerful psychological tools and powerful NLP techniques to help heal childhood traumas through a non-confrontational approach. Restructuring is a powerful method employed throughout history. By reading the story of Odi and Dina, readers can confront their family issues with those within the story to help reframe their painful memories and transform distracting emotional and behavioral patterns. This is a very unusual but effective option for overcoming resentment and other negative emotions associated with experienced psychological trauma.
Odi is a teenager from a dysfunctional family who lives in constant stress associated with the poor well-being of his family and the cruelty of the surrounding reality, full of moral and physical enemies and blows. His life is dark, miserable and hopeless, until one day a magical flashlight appears that allows him to see the inner children of his offenders and the traumatic episodes that occurred during their childhood.
At the same time, magical heroes suddenly appear, and he goes on a mystical journey. This expands his mindset and allows him to change his perception and get out of resentment. After going through his transformation of consciousness, he helps his close friend Dina survive the frustration associated with the traumatic events taking place in her family. He comes out of resentment and plans for revenge, focusing on building a prosperous and happy future. All childhood stories described are based on real events.
Wonderful transformations will take place in a process of reading based on pure science and the power of metaphors and powerful images provided in the book.
About the book:
Apocalyptin
Psychotherapeutic fairy tale Healing of the most common childhood traumas
By Anna Parkmann
Release date: April 13, 2022
ISBN: 9798801427430
About the author:
Anna Parkman is a well-known life coach, health coach and writer, who uses a combination of psychological and NLP tools in her work. The uniqueness of her methods is noted in numerous articles in various respected publications. Anna is a frequent guest on magazine covers. Articles about her and her unique book Apocalyptin can be found in the most prestigious publications. She also has a million followers on Instagram. Parkman's list of psychological specialties is extensive. These areas include, but are not limited to: cognitive behavioral therapy, Gestalt therapy, psychoanalysis, body-oriented therapy, art therapy, fairy tale therapy, child physiology, family psychology, shema therapy, systemic and family constellations, psychosomatics, conflictology , targeted therapy, personality disorders, sexology. Anna is also a master practitioner of NLP. (Nuero Linguistic Programming). While this list is quite long, Parkman notes that "this list will be replenished all the time as I study endlessly and in my plans to study many more psychology modalities." Her passion for psychology is palpable. Using the skills she has learned and the areas she has studied, she currently holds positions as key opinion leader, life coach and author.
She explains how her methods and ongoing experience enable her to be more effective in carrying out her current positions: "It is my deep conviction that it is correct to use an integral approach in psychology. It is highly professional to navigate various types of psychology and combine the most effective tools and materials. This makes the work of a psychologist very effective and offers the opportunity for powerful transformation. Now Anna is the mother of 3 children. She masterfully combines motherhood, marriage and career while living in Miami Florida. She is now known in the United States and an internationally recognized psychologist. Anna is also Mrs. Florida Globe 2021-22.
Website: https://annaparkman.com/
Apocalyptin is available for purchase on Amazon at https://www.amazon.com/Apocalyptin-Psychotherapeutic-Healing-Childhood-Traumas-ebook/dp/B09XW9KNPS/
BookBuzz.net PR
BookBuzz.net helps independent authors, hybrid authors and small publishers promote and market their books. We also help with book reviews, advertisements, and more. Let's create some buzz for your book!!!
Contact with the media
Company Name: Book Buzz
contact person: Amanda – Public Relations Manager
E-mail: Send an email
Telephone: 7065098422
City: Santa Anna
State: about
Village: United States
Website: https://www.bookbuzz.net