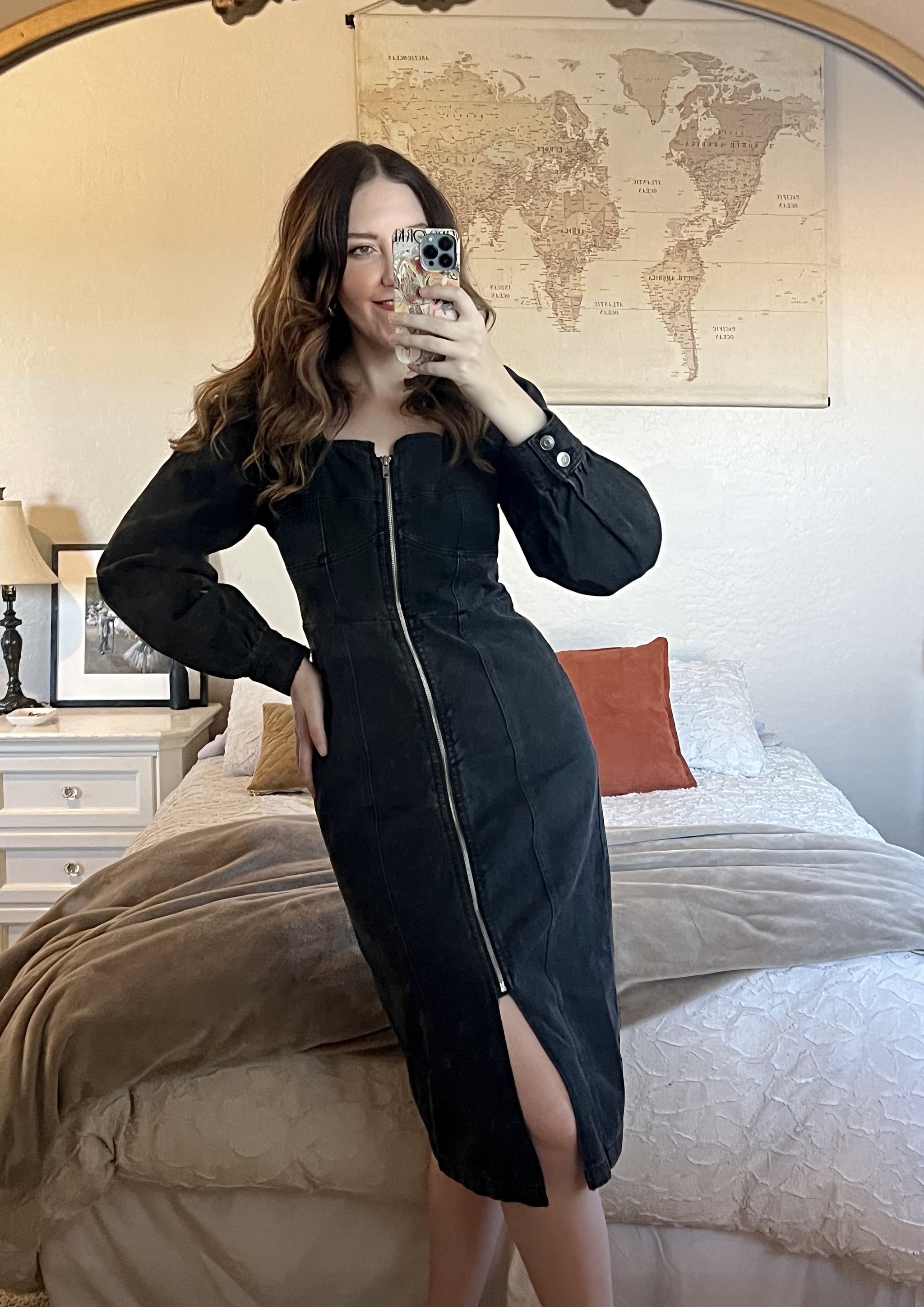 Every November, I find myself overwhelmed by a handful of new stressors before the holidays. There are the usual suspects: shopping for gifts for family and friends, preparing all the seasonal dishes on my kitchen to-do list, navigating the work craziness, and finally trying not to freak out as my calendar fills up with events , dinners and parties during the remaining two months of the year. Then there's the less predictable stressor that I imagine also plagues any fashion lover with hopes of being dressed better at the next family reunion: what am I going to wear.
All in all, I'll admit this is a nice problem to have and certainly not one that should send me into a shopping spiral as usual, but I can't help it! Of all the family reunions, parties with coworkers, and looming vacation photos (many of which I can anticipate making their way onto Facebook or Instagram), I can't think of a season where it's more of a necessity for you to show trying your best. Being the planner that I am, my search for the perfect Thanksgiving Day outfit began way back in October, when I was tirelessly scouring the internet for a formal dress that was elegant enough to suit the occasion, but also affordable enough to fit into my pre-Black Friday budget.
Miraculously, I was able to find the perfect style in this Future Collective x Kahlana Barfield Brown Puff Sleeve Denim Dress ($50). The Target midi dress is so chic and refined (making it ideal for wearing on vacation), yet still relaxed and versatile enough to wear for more casual occasions, thanks to its denim design. Read on to see my honest review of the puff sleeve style and why I'm convinced it will be a staple in my wardrobe for years to come.
What I love about this Target midi denim dress
I love that it has the same style as a classic denim dress, just in a more updated style. The dress comes with a midi length and a square neckline both of which help give it an edge over some of the other button-down denim dresses or even those with relaxed necklines. Thanks to its careful design, the garment is incredibly versatile and gives me the freedom to wear it in practically any circumstance. The denim material also provides extra thickness which gives it a warmer and more durable feel, making it the perfect style to sport when the temperatures start to drop for winter.
I also love the uniqueness provided by the front zipper design. This element, albeit small, allows me to easily adapt the fit of the dress to my style preferences. If I need something more formal, I can zip the dress up completely and style it like a classic puff sleeve gown. Alternatively, if I'm going for a sexier evening ensemble, I can also leave the dress zipped up just a few inches below the neckline and then let the sleeves drape over my arms for a more off-the-shoulder look.
What is worth noting
While that might not come as a surprise given the makeup of the style, this definitely isn't a baggy or super breathable dress. Denim fabric is relatively stiff, and if I sit down or move my arms too widely, the style can start to feel quite constricting. I wouldn't say this has anything to do with sizing (I'm usually a size 6, which was also where I ordered this midi dress); I think it's just a predictable result of the fabric. These days, I pretty much live in T-shirt outfits and oversized dresses, so when I'm wearing something that's a little more body-hugging, I can definitely get caught off guard in my first few wears. That said, that wouldn't stop me from buying the Target suit, wearing it, or even recommending it to a friend. But if you're someone who prefers a little more breathability and stretch in your clothes, that's something to take note of.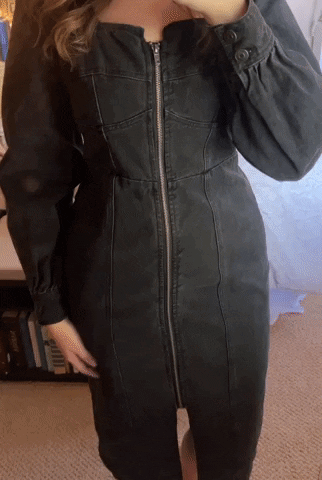 Who is this target midi denim dress suitable for?
This Target midi dress is ideal for any fashionista who likes to look put together with little to no effort. The dress boasts a structured design that makes it look a little more fitted than the traditional denim dress silhouette. The puff sleeves also help elevate it with a refined edge, giving you the freedom to easily dress it up or down, depending on your style preferences. In the last month I've already managed to wear this dress with my white sneakers and a shoulder bag while meeting my friends for brunch. Alternatively, I've also dressed it up on several occasions for evening events and dinner parties, simply pairing it with nude heels, a statement purse, and some gold jewelry. Each time, I got away with just putting it on, layering a few additional accessories on top of it, and then going my merry way — no struggling to coordinate an outfit ahead of time.
Where is this Target midi denim dress available?
The Future Collective x Kahlana Barfield Puff Sleeve Brown Denim Dress is available to shop exclusively at Target.
additional details
This denim midi dress is made from 100% cotton.
The pull-on style boasts a front zipper design that allows users to slip the robe on like a coat and then zip it easily from the front.
This particular dress is available to purchase in US women's sizes 0-30.
Assessment:

Image Source: POPSUGAR Photography / Kyley Warren