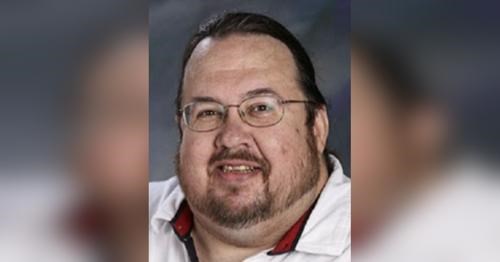 Funeral services for longtime Perry sportscaster Jeff Webster will be today in Illinois and Sunday in Perry. Jeff died on November 6 at Stratford Specialty Care.
Jeff's family will meet friends from 10:00 until the time of the funeral mass at 11:00 on Friday at St Mary's Catholic Church, 108 West Adams Street in Taylorville. Interment will follow at Calvary Cemetery in Pawnee.
Sunday There will be a special gathering and celebration of Jeff's life this Sunday from 1-3pm in the Canisteo Room of the Hotel Pattee. All are welcome.
The following is a letter that former Perry operations director Tom Lipovac presented to the Iowa High School Athletic Association in 2017.
Please accept our nomination of Jeff Webster of Perry, Iowa for an Iowa High School Athletic
Sport Media Association Award. Jeff became the sports editor for the Perry Chief in February
of 2005 later leaving and becoming the co-editor for the Perry News. It's a good addition
to our community and our program of activities that promote the best things about our school
Neighborhood.
Before coming to Perry, Iowa, Jeff Webster was Marshalltown's sports editor
newspaper, the Times-Republican, from 1999 to 2003. He also previously served as a staffer
reporter for The Endeavor at Marshalltown Community College. Since she took over the role of
the sportscaster for the Perry area, newspaper coverage was expanded in the
Woodward-Granger and Panorama school districts. The focus is on the area high school
activities, middle school events, youth leagues, recreational programs and achievements of
former local athletes. Jeff is an extremely diligent and gifted writer. He seeks the good within
high school athletics and understands the role of athletics in an educational context. His loyalty
for Bluejay and Jayette athletics are undisputed. The connections he makes with coaches e
student-athletes remains constant and positive even after their departure/graduate
the Perry Community School District.
In addition to the outstanding coverage Jeff provides to area sports, he also serves
opportunity as a color commentator for high school sporting events broadcast by KDLS Radio
working alongside Shawn Kenney. Whether it's in writing or as Jeff's radio analyst
comments are clearly worded, well thought out, honest and effectively communicated.
Comments are often received from area residents complimenting Jeff e
comment. In addition, Jeff worked as a press announcer for Bluejay Baseball and Jayette
Softballs.
Jeff is actively involved in St. Patrick's Catholic Church. He volunteered as a
religious education teacher who assists in preparing students for the sacrament of
confirmation. Jeff is a reader who regularly shares scripture passages during mass. His voice
resonates in a church setting. Jeff is also a member of the Knights of St. Patrick chapter
Columbus.
Jeff Webster contributes significantly to Perry Community School's athletic programs
Quarter. It's not easy to follow in the footsteps of Harold Bailey who was a sports editor
of the Perry Chief for fifty years. Jeff's efforts and dedication would make Harold proud.
Please seriously consider recognizing Jeff Webster with Iowa High School Athletic
Sport Media Association Award.