The joy of watching "Wednesday" with the daughters
January 15, 2023
This is an edition of The Atlantic Daily, a newsletter that guides you through the day's top stories, helps you discover new ideas and recommends the best of culture. Sign up here.
Good morning, and welcome back to the Sunday culture edition of The Daily, where one Atlantic the writer reveals what keeps them entertained.
Today's special guest is Gal Beckerman, our senior book editor and most recently the author of The Silence Before: On the Unexpected Origins of Radical Ideas. Gal recently wrote about a 1933 novel describing the arrival of fascism in Germany and the 50-year combative relationship between biographer Robert Caro and his editor, Robert Gottlieb. He is having fun Wednesday with his daughters but protecting them from the sight of M3GANand, on the recommendation of Rumaan Alam, finally gave in to the French writer Patrick Modiano.
But first, here are three Sunday readings from The Atlantic:
---
The Inquiry into Culture: Gal Beckerman
What my friends are talking about the most right now: We're talking about how terrified all of our kids are of M3GAN! I took my kids to see a movie the other day, and the trailer came in — and I knew, as soon as I saw that creepy face and that creepy body dance, where it was all headed. I leapt over the seats to cover their eyes before she invaded their nightmares. Too late. [Related: M3GAN's killer-robot doll is just what 2023 needs.]
The next event I'm looking forward to: I recently moved back to New York City after a few years in the cultural wasteland of Los Angeles (yes, I said it). And I have a long list of plays I can't wait to try, especially some revivals of plays I've never seen performed, like August Wilson's The piano lessonSuzan-Lori Parks Topdog/LoserAnd Funny Girl. And since these are anticipated cultural events, I can't wait to visit the Alex Katz retrospective at the Guggenheim. [Related: The unconscious rebellion of August Wilson]
An actor I would look up to in anything: Michael Williams. She blew me The fablemen. I've always loved her work in Kelly Reichardt's films, but this role required such a careful and difficult balance: a mother who fiercely loves her family but is unwilling to sacrifice her own personal happiness. [Related: The Fabelmans is Steven Spielberg's most honest movie yet.]
My favorite blockbuster and my favorite art film: I grew up in the 80s and nothing will ever match the thrill of the blockbuster for me Indiana Jones movie. Just hearing the John Williams soundtrack reminds me of being 8 years old and completely enraptured. As for my favorite art film, the most recent that comes to mind is Paweł Pawlikowski's beautiful and moving 2018 film, Cold War. [Related: Cold War meditates on exile, nationalism, and love.]
Best Novel I've Read Recently and Best Non-Fiction Work: This might be unfair, because both of these books were ones I read as drafts and won't be out for a few months (and yes, that's what in the book world we call "galley bragging").
The novel is by Catherine Lacey Biography of X, which is a fictional biography of the widow of an elusive artist whose career has been defined by shapeshifting (think a mashup of David Bowie and Cindy Sherman). The entire story also takes place in the alternate United States which has been split into three separate territories, with the entire South existing as a fascist theocracy. If that sounds weird, it is. But in the best way.
In a very different register is my choice of non-fiction, Jonathan Rosen's The The best minds, which explores Rosen's relationship with his childhood friend whose brilliance was cut short by his schizophrenia. After years of success, including graduating from Yale Law School, this friend ends up killing his pregnant girlfriend. It is a beautifully written meditation on society's inability to cope with the problem of mental illness. [Related: Catherine Lacey on Gwendoline Riley's haunted heroines]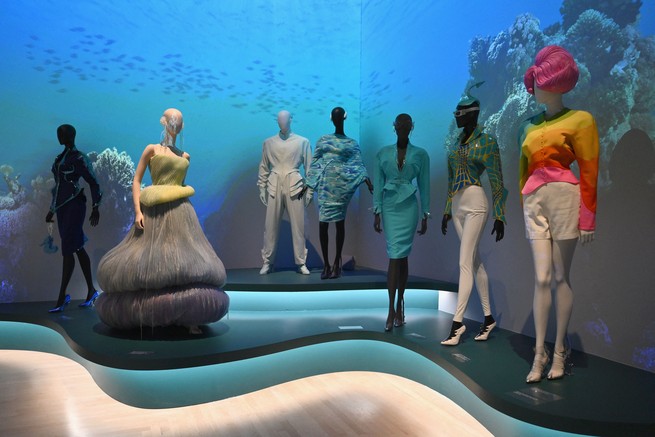 An author I'll read anything by: I will limit myself to two European writers that I love. One is Emmanuel Carrère, the French author, who writes these strange genre-bending autofiction books: if you're new to him, I'd start with Different lives than mine. And the other is the German novelist Jenny Erpenbeck, whose Go went Gone it is among my favorite books of all time. [Related: You can read any of these short novels in a weekend.]
A song I'll always dance to: "Hava Nagila"
The Last Museum Exhibit I Loved: I took my daughters to see the Brooklyn Museum's Thierry Mugler retrospective. I wouldn't say that high fashion is exactly my thing, and I'm often skeptical of museum exhibits that lean on spectacle to appeal to the masses (as much as I understand this impulse). But I was totally dazzled by Mugler's creations: just the range of materials, from rubbers to chrome; the crazy extravagance of it. I loved the operatic ambition, and more importantly, my daughters' mouths were agape most of the time.
Something I recently revisited: During college, I had five Tom Waits albums in pretty much regular rotation, and I recently came back and listened to them again after a long hiatus. Frankish wild years it stood out as the one that captured what Waits does so well: underneath the tartness is that flavor of nostalgia. I'm a sucker for the crackling sound of a vinyl record and church bells ringing in the distance. It's timeless.
My favorite way to hang out on the phone: Twitter, but I just deleted it (again).
Something delicious that was presented to me by children: This is very recent, but my daughters sat me down and let me watch Wednesdaythe new Netflix show on the Addams family character, now a teenager. They were so taken with Wednesday's coolness, her monochromatic fashion and, of course, that ball. "I love dark humor!" my 10-year-old exclaimed.
The last debate I had about culture: Not so much a debate as a dilemma: how to figure out the insane sales figures for Prince Harry's memoir, Replacement. The book sold more than 1.4 million copies on its first day. With all its major revelations already pretty well conveyed, why so many people were interested in buying Replacement? Why did they really want to read it? [Related: Prince Harry's book undermines the very idea of monarchy.]
A good recommendation I recently received: Novelist Rumaan Alam long pushed French writer Patrick Modiano on me, and I finally relented and read one of his many thin, twisty, noir books, So you won't get lost in the neighborhood. She totally got me.
The last thing that made me cry: The last episode of the series Fleishman is in trouble, based on the novel by Taffy Brodesser-Akner and adapted by her, drove me completely crazy for an hour. I don't want to spoil anything, but there is such an emotional payoff when you've seen these characters who have come to terms with feelings of boredom and emptiness, finally grasp enough meaning and purpose to move forward. That's enough to make a middle-aged man cry. [Related: 'What is Jesse Eisenberg doing here, saying these things I wrote?']
Read past editions of Culture Survey with Kate Lindsay, Xochitl Gonzalez, Spencer Kornhaber, Jenisha Watts, David French, Shirley Li, David Sims, Lenica Cruz, Jordan Calhoun, Hanna GiorgisAnd Sophie Gilbert.
---
The week ahead
The Last of Usthe HBO adaptation of the popular zombie-apocalypse video game (debuts Sunday)
Women who speak, director Sarah Polley's new film (in theaters Friday nationwide)
Rikers: An Oral Historya book by journalists Graham Rayman and Reuven Blau (Tuesday)
---
Theme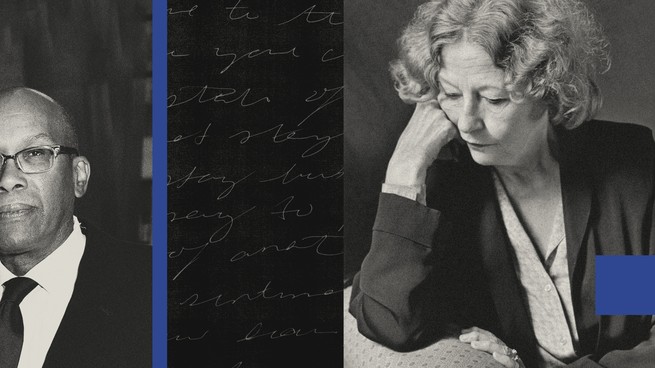 The most sacred relationship of the writer
By Lauren LeBlanc
Making a living as a writer has always been an elusive pursuit. The competition is fierce. Measures of success are subjective. Even many people at the top of the profession cannot wholeheartedly recommend it. Critic Elizabeth Hardwick, recalls Darryl Pinckney in his evocative new memoir, "he told us there were really only two reasons for writing: desperation or revenge. He told us that if we couldn't accept rejection, if we couldn't be told no, then we couldn't be writers.

Despite these red flags, countless people have taken this path. A lifeline, if you're lucky enough to find one, is mentorship. Literary mentors offer the conventional perks: perspective, direction, connections. But the resulting partnerships are less transactional and more messy and serendipitous than those that tend to exist in other industries. While many people might think of such arrangements as altruistic or at least utilitarian, Pinckney's book chronicling his tutelage under Hardwick shows that artistic tutoring, especially literary tutoring, is much heavier. Together, he and Hardwick have spanned two intersecting careers, each with periods of inactivity and moments of success. This can be a challenge to creative and fragile egos, leading to a fair amount of projection, guilt, and tension. Yet, lasting mentors allow for unpredictability and evolution.
Read the full article.
More in Culture
---
Keep pace The Atlantic
---
Photo album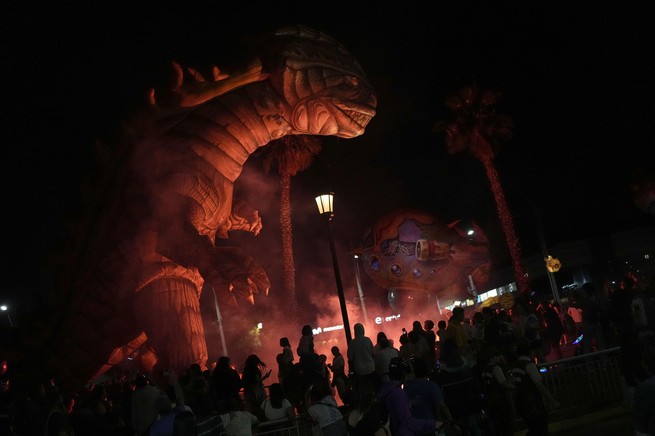 A night parade at the Santiago a Mil arts festival in Santiago, Chile on January 10. Check out the shots from the rest of the week here.
---
Kelli María Korducki contributed to this newsletter.
Explore all our newsletters.
Tags:
50 year fighting relationship
,
Angela Weiss
,
Atlantic writer
,
best nonfiction work
,
Best Novel
,
big revelations
,
Biography of Catherine Lacey
,
book business call
,
CNY
,
critic Elizabeth Hardwick
,
Culture survey
,
dark humor
,
Darryl Pinckney
,
daughters
,
edition of the Atlantic Daily
,
favorite art film
,
favorite blockbuster
,
favorite books of all time
,
filming of shows
,
French author
,
French writer Patrick Modiano
,
French writer Patrick Modiano.Ma
,
Gal Beckermann
,
German writer Jenny Erpenbeck
,
good recommendation
,
Hava Nagila
,
high fashion
,
Jonathan Rosen's Best Minds
,
joy
,
Kelly Reichardt's films
,
last debate
,
last episode of the Fleishman series
,
latest museum exhibit
,
long list of theatre
,
love
,
mix of David Bowie
,
new ideas
,
new Netflix show
,
operatic ambition
,
Oral history
,
Photo album
,
Rumaan Alam's recommendation
,
senior book editor
,
short novels
,
smooth rotation
,
Spencer Kornhaber
,
Sunday cultural edition of the newspaper
,
the new film by director Sarah Polley
,
The whole story
,
timeless.My favorite way
,
watching
,
Wednesday
,
well written meditation
About The Author
Caitlin Alanson