Tom Keneally's latest novel Fanatic Heart
January 13, 2023
Mitchel was the Irish son of a revered non-criminal Presbyterian minister and a fierce mother. Jenny was the illegitimate child of Mary (a coachman's daughter), the beloved of James Verner who had once commanded a British troop at Waterloo, and would have been Baron of Armagh 'if he had married properly'. The Verners had been involved in the creation of the Orange Order, yet Jenny was brought up to say that "if it's hatred of other Irish people, that's not why the Orange Order was founded".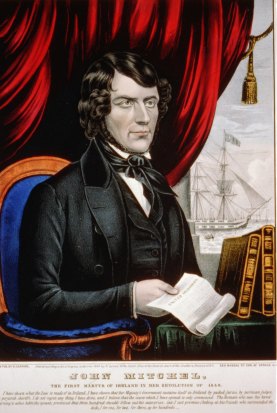 Presbyterian Mitchel and Protestant Jenny eloped, but their union was preempted by the combined action of their concerned parents (the couple eloped twice in their lifetime). Their marriage was finally blessed and officiated by the Rev Babington of the Church of Ireland, standing in the porch of his church (not for sectarian reasons, but because his church was being rebuilt).
It is the fine grain of Keneally's retelling and the wry gleam of his prose that carries this and the next 29 chapters of his sweeping novel, lit as it is from the outset by an epigraph from Yeats: "Out of Ireland have we come./ Great hate, little room,/ He maimed us in the beginning./ I bring from my mother's womb,/ A fanatical heart.
Mitchel's rhetoric and publication saw him convicted (by Baron Tom Lefroy, a former suitor of Jane Austen) under the Treason Felony Act 1848 and sentenced to 14 years' transportation. He was shipped to Bermuda and finally, almost by mistake, to Van Diemen's Land, where he was soon joined by other rebels, including the charismatic Thomas Meagher.
Loading
Jenny and family also joined him and found a kind of rural peace in the increasingly independent colony. But Ireland was not at peace and his supporters, looking for figureheads, arranged for the Mitchels to move to the United States. Mitchel was both emboldened by the new vision of American democracy and horrified by the barbarism of 19th-century industrial capitalism, with its callous contempt for the fate of its workers. Treated worse than slaves, Mitchel argued, in an intellectual ferment that included the study of skulls and the racial theory of the German Johann Blumenbach.
As the novel ends (somewhat abruptly), Mitchel, his Jenny and their children seek (yet another) idyll in the rural beauty of Tennessee. The American Civil War is brewing. And the novel's resonance for our times is deafening.
The Booklist is a weekly newsletter for book lovers from book publisher Jason Steger. Get it every Friday.